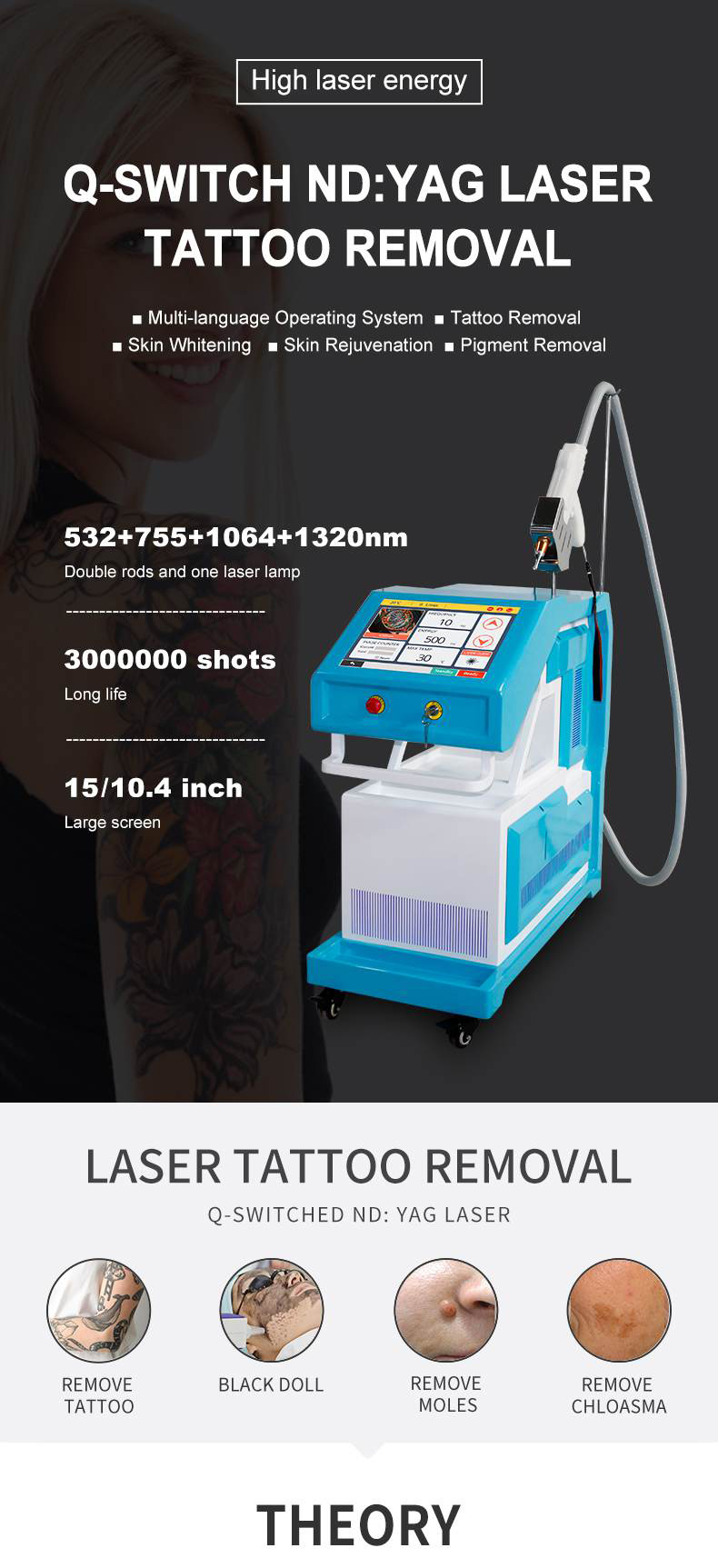 The Ng Yag Laser uses ultra-short pulses (one trillionth of a second in length) to hit the melanin with a great pressure, the melanin shatters into tiny dust-like particles. Because the particles are so small, they are more readily absorbed and eliminated by the body. This can mean better clearance of the melanin and less treatments overall.
PicoSecond Laser is a quick and easy non-surgical, non-invasive laser skin treatment for the body including chest or decollete, face, hands, legs, and more.
1. Won't hurt the skin, completely break up the pigment
It can remove all kinds of pigment and tattoo effectively and safely,because picosecond laser use precise positioning of the target tissue therapy to reduce damage to the skin to achieve the freckle effect
2. De-coloring and enabling repair mechanism
Picosecond laser machine used unique Honeycomb Focused technology to form a skin effect vacuolization,which can protect skin from damage during treatment.
3. Higher pigment removal rate
The Picosecond laser uses ultra-short pulses (one trillionth of a second in length) to hit the melanin with a great pressure,the melanin shatters into tiny dust-like particles,Because the particles are so small,they are more readily absorbed and eliminated by the body.It will significantly reduce postoperative swelling,melanin precipitate phenomenon.
4. Faster Pigment removal quickness
Picosecond laser machine make tattoo & pigment removal treatment process from 5 to 10 times reduced to 2 to 4 times,greatly reduce the treatment and recovery time,with fast and obvious effective.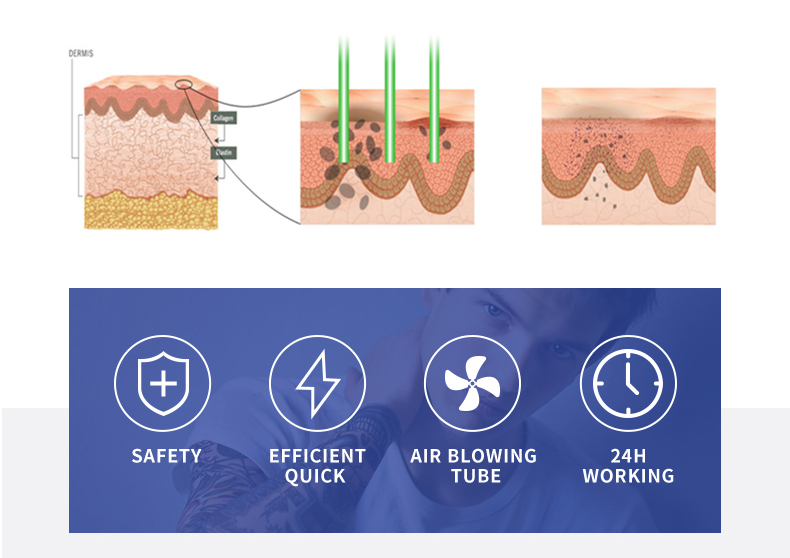 1. Less bleeding
The laser beam is very narrow and easy to target only exposure lesions. It doesn' t hurt or injure thesurrounding systems: at the same time laser has the effect of "hot welding" to the vessel. It can closethe vessel. Therefore it will be less likely to bleed.
2. Less pain
On the one hand because of the thermal coagulation, the nerve ending is damaged and reduces the feel-ing of pain. On the other hand the treatment area is small and the treatment time is short. Therefore,patients feel less pain. This treatment doesn t need anesthesia, although some patients may prefer toapply a topical anesthetic or numbing cream to the skin surface before any treatment.
3. High quality
Because there is minimal bleeding during treatment, it leaves a clear view to remove target. Of course italso needs the quality assurance and responsibility of the operator.
4. Fast treatment
The energy of laser is large and centralized. Completing the point of the treatment only needsa fewnanoseconds and a few milliseconds.
5. Less scars
As following the advanced "the principle of selective absorption" to finish laser beauty, it won' t causenormal tissue irreversible damage, so there is no scar.
6. Fewer recrudescence
AS the laser treatment to the lesions is complete, the injury to the surrounding normal tissue is minimal.Therefore, the rate of the recrudescence is much smaller than traditional therapy.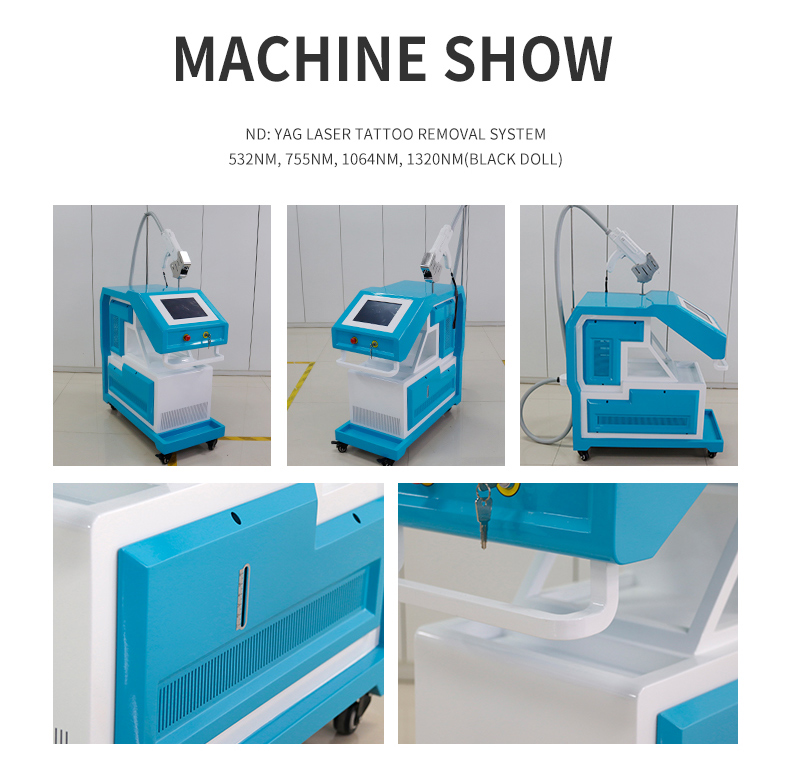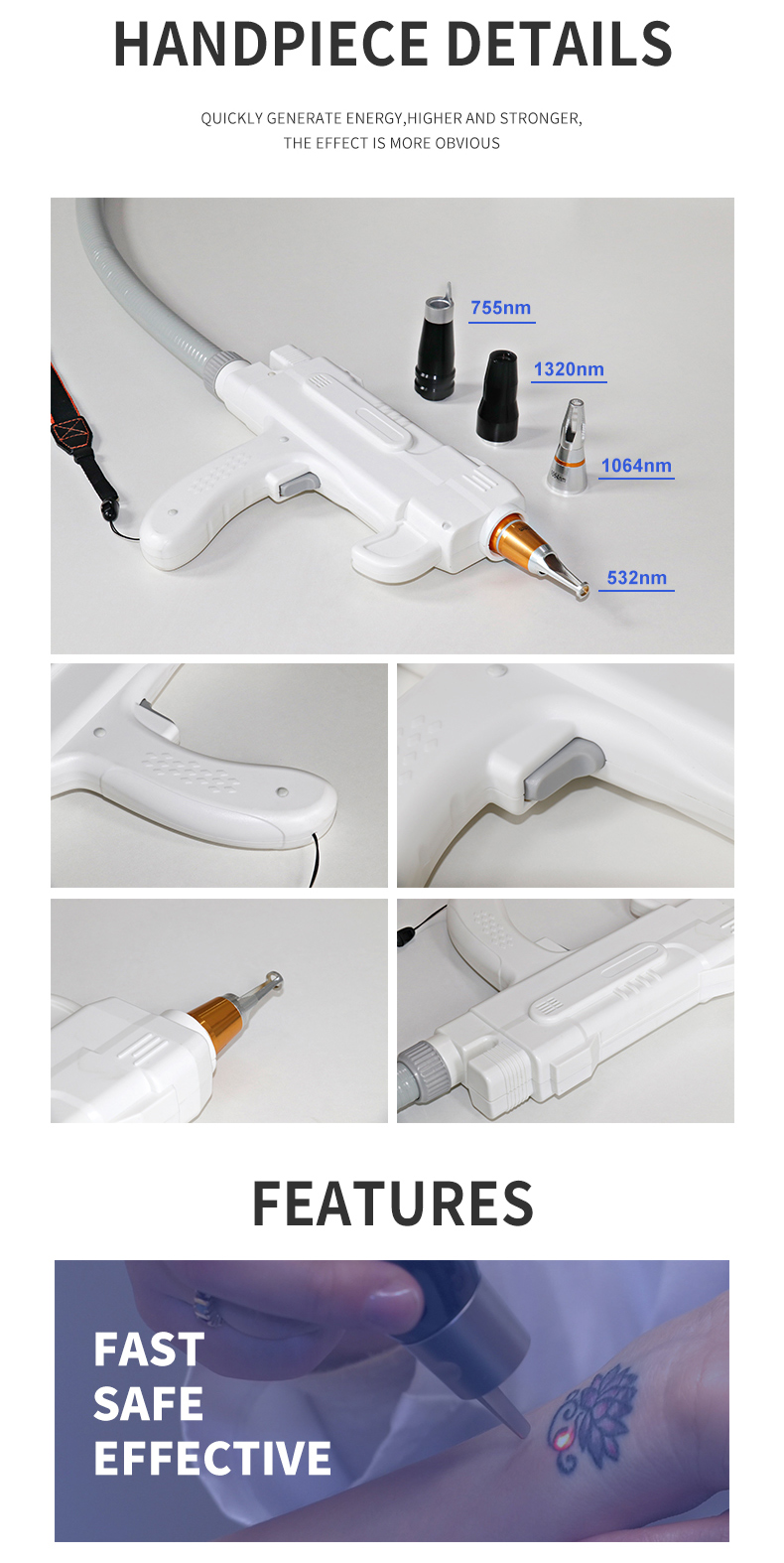 1. High Energy & Short Pulse Duration:
The power emits in tills of a second to skin tissue, which can explode the pigment into much moresmall pieces than traditional Q· switched laser. The pigment pieces can be absorbed more easily andfaster.
2, Minimal Risk and Less Pain:
Since the pulse duration has been reduced thousand of time, less damage of skin is realized. The treat-ment is more safe and less pain.
- Fast: For tattoo removal, usually 6· 8 treatments is necessary by traditional Q-switched laser. Withadvanced Nd: YAG Picosecond Laser, only 3-4 treatments is needed for completely removal.
- High Performance: Pigment clear rate is higher, pigment removal speed is faster.
- Suitable for all skin colors from I-V skin types.
- No anesthesia during the treatment, No inflammation. No hyper pigmentation after treatment.- Refused to stimulate melanin active again risk. Remove melanin and start repair mechanism.

1., Tattoo removal:
Blue, black, red, yellow, green or brown tattos; lip line or eyebrow line pigmentation. Different wave-lengths with different functions:
- 1064nm: cold tone tattoo removal, such as dark, blue, grey, etc.
- 532nm: warm tone tatto removal, such as red, brown, purple, etc.

- 1320nm: Black doll treatment for face whitening, skin rejuvenation, shrink pores, deep cleaning, etc.
- 755nm: Speckles, spots, pigments removal, etc.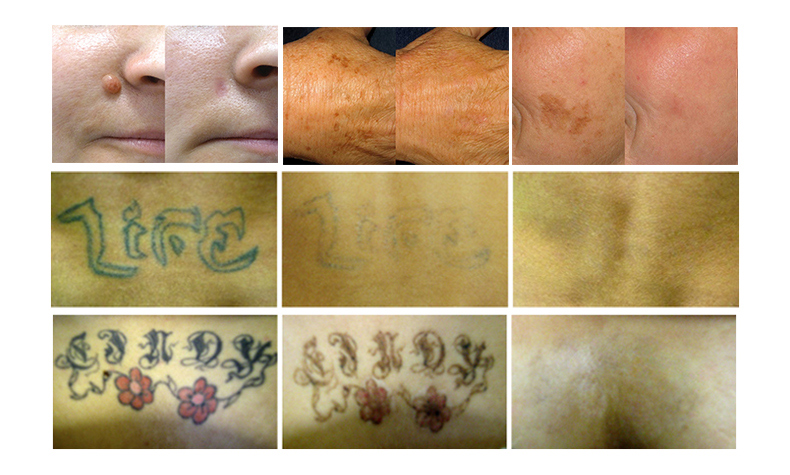 STANDARD CONFIGURATION
Laser Type
Q-Switched Nd: YAG laser
Head
1064nm&532nm&1320nmBlack doll & 755nm honeycomb mirror matching
spot area
φ6mm
Energy
500-1000mj
Frequency
1-10HZ
Laser Pulse Width
2-8ns
Indicator
630nm infrared indicator
Cooling
water cooling&air cooling
Output Power
2000W
Display Interface
10.4/15 inch color touch screen
Power Supply
220Va.c/110Va.c ±10% 50Hz/60Hz