Portable Picosecond Laser Tattoo Removal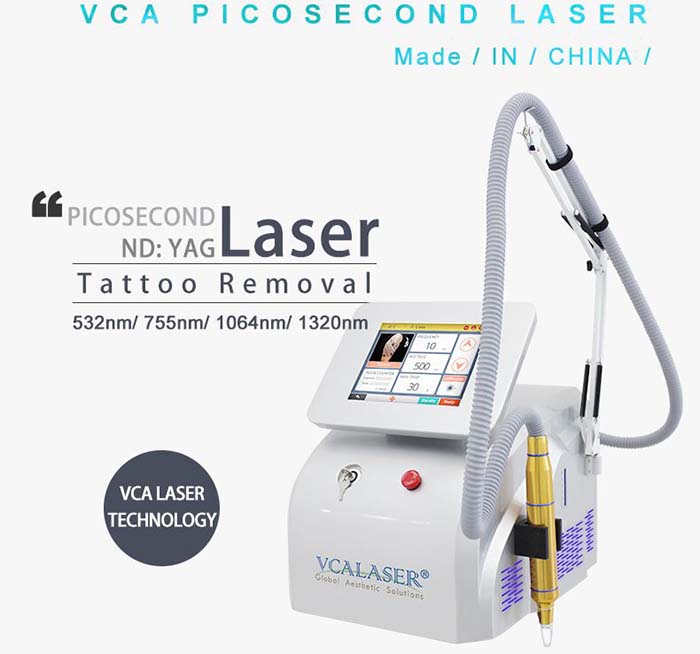 1. Epidermis and dermis pigment removal.
2. Remove chloasma , freckles, black spots, coffee spots, sunburn spots, age spots, etc.
3. Nevus of Ota removal, birth marks removal, blue nevus and black nevus removal.
4. Acne scars removal, blood vascular clearance..
5. Skin whitening, skin rejuvenation, skin resurfacing, wrinkle removal, fine lines removal.
6. All colors tattoo removal, such as body tattoo, eyebrow tattoo and lips line, etc.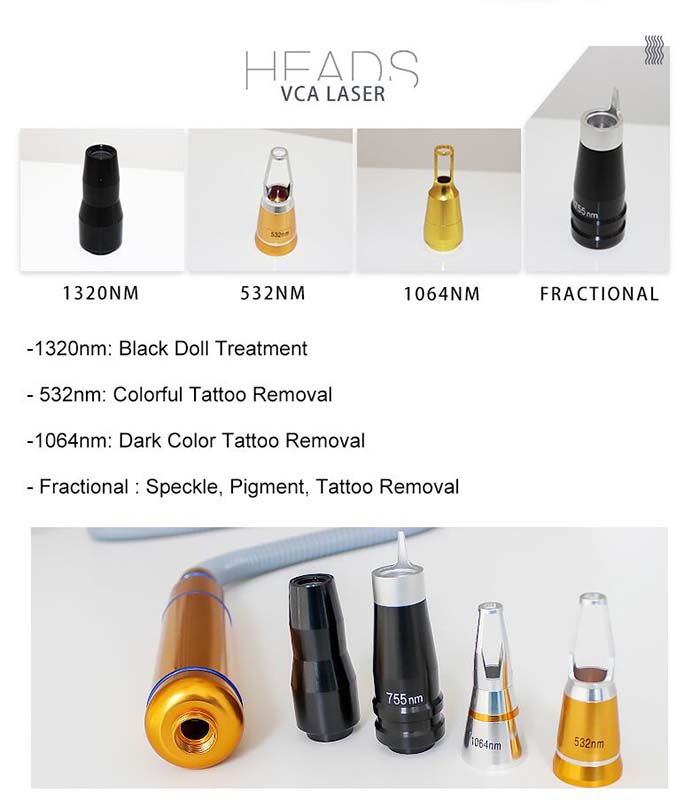 Features:
1. 4 different treatment probes with 4 different laser wavelengths(1064nm, 532nm,
1320nm, fractional), available for more treatments.
2. More professional and more effective for pigments removal and tattoo removal.
3. — 1064nm for blue and dark color tattoo removal;
— 532nm for colorful tattoo removal, such as red, brown, etc;
— 1320nm for black doll treatment, skin whitening, skin rejuvenation, deep cleaning;
— Fractional for pigments and speckles removal.
4. Pigment clear rate is higher, pigment removal speed is faster.
5. Refused to stimulate melanin active again risk.
6. Remove melanin and start repair mechanism.
7. No anesthesia during treatment, no inflammation.
8. Suitable for skin types from I-IV, no hype pigmentation after treatment.
9. More safe and more targeted, won't damage the normal skin tissues.
10. Treatment session is greatly shortened.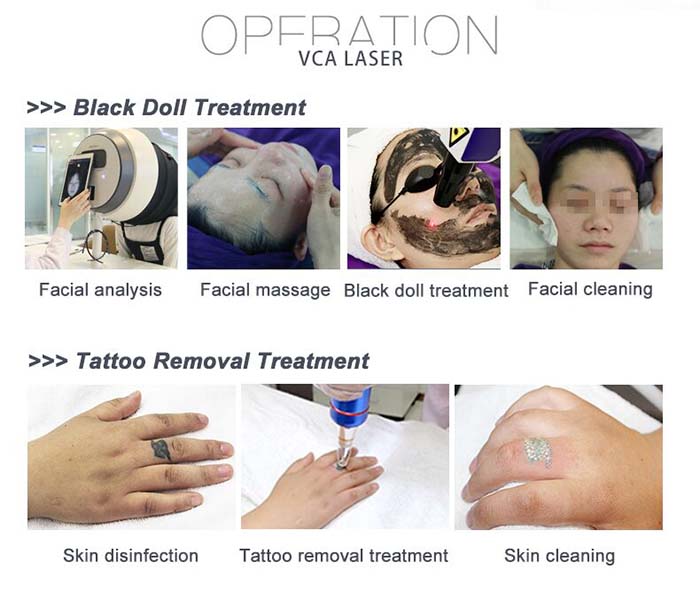 Advantages:
Laser Tattoo Removal uses theory that the specific wave length (1064nm or 532nm) of laser will be absorbed by specific pigment. The high energy of laser, absorbed by the specific pigment, could cause the pigment to swell and explode, partial fragments of the pigment will be shot out of the body, and the other pigment fragments will be removed by your body's immune system over a period of time. Because the normal skin absorb little energy induced by laser at the wavelength of 1064nm or 532nm, so the laser could selectively targets and destroys tattoo pigments while leaving.
The energy of Q-switched ND: YAG laser can be absorbed by the blue and black melanin. The melanin will be fragmented so small that they can be metabolized by the lymphatic system or egested out of body. Thus the tattoo or other pigmentations will be removed without damage to the normal tissue. The treatment is safe and convenient without downtime and side effects.