IPL SHR E-LIGHT Skin Tightening Acne Removal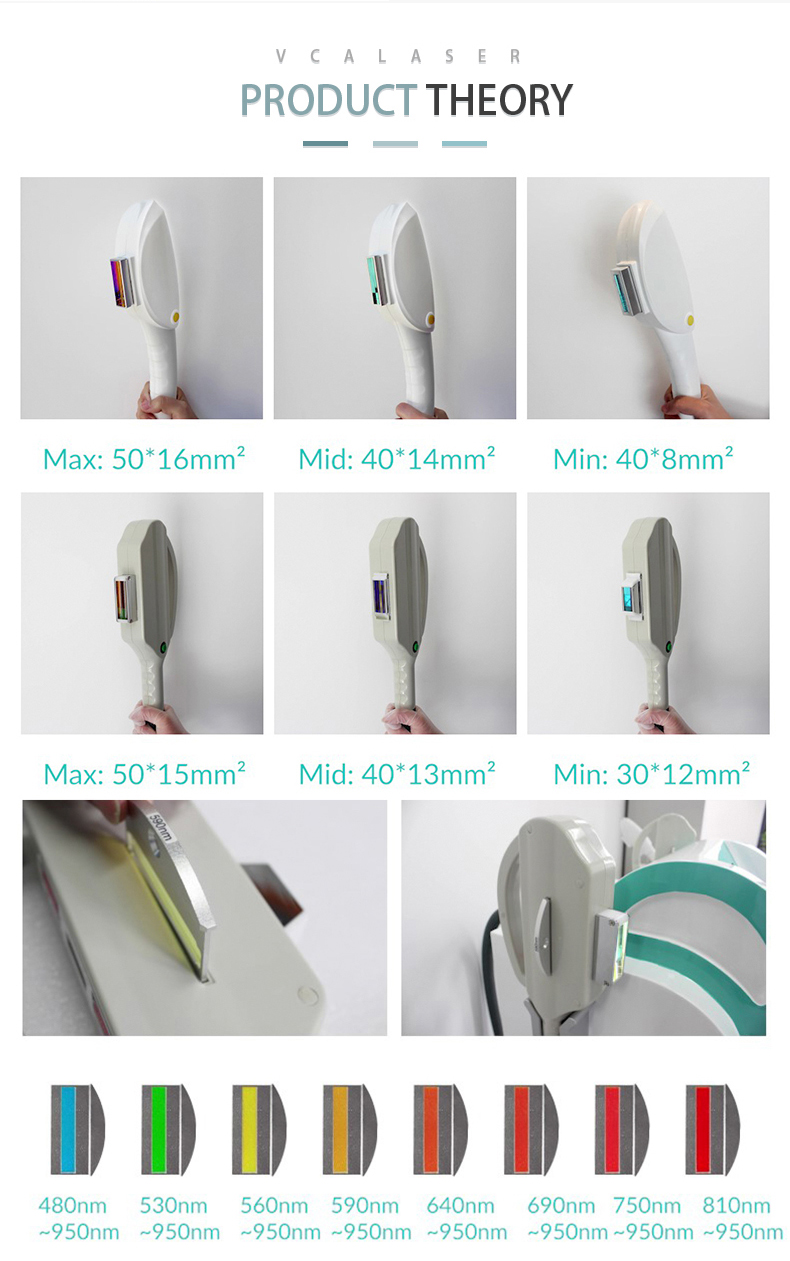 SHR stands for Extremely Curly hair Removal, a technology for long lasting curly hair removal which is having a capturing achievement. The system combines laser beam technology and the benefits of the extreme pulsed light technique achieving virtually painless outcomes. Some hairs are tough or actually not possible to end up being eliminated, but at this point can be treated quickly.
"In-Motion" represents a breakthrough in permanent locks removal technology, fast treatment, conserve much time. The treatment is usually more enjoyable than the typical systems and your epidermis is definitely better safeguarded.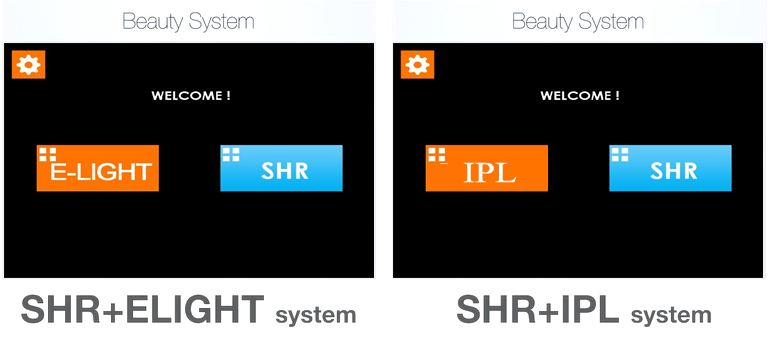 2 Hand-piece work professional for targeted function.
1. 1 pcs of High power fixed headpiece with large spot size, Perform fast hair removal
with 50x14mm2 Large spot size
2. Change filter headpiece, more functions available
8 Filter Optional:
480-950nm: remove acne
530-950nm: speckle treatment
560-950nm: skin rejuvenation
590-950nm: remove vessel
640-950nm: remove unwanted hair---have perfect effect on dark color hair
690-950nm: remove unwanted hair---have perfect effect on light color hair
750-950nm: remove unwanted hair fast
810-950nm: remove unwanted hair fast
3. Cooling effect Reduce pain feeling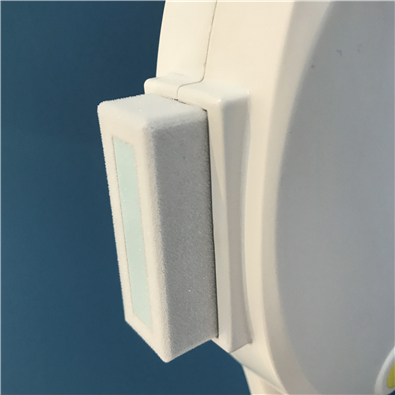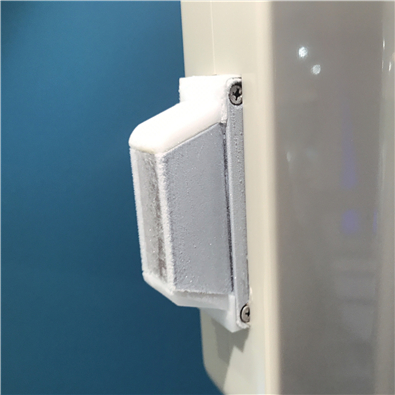 Features:
1.SHR can be the innovative of E-light, approved by the globe. It combines the advantages of fast of light, and multi-functional traditional E-light
2.No Discomfort, No part effect, treatment with brief period, no any impact for daily existence.
3.Fast hair removal for numerous curly hair color.
4.SHR Program, Light released 3 strategies OPTION
5.24 hours constant function. Importing extremely effective Cooling program from America, Realize frosty anesthesia; Adjustable cooling system control by software program.
6.Plug-and-play connectors makes install more easily, safer and dependable.
7.Notify gadget for failing of drinking water level, water temp, drinking water lack of stability and refrigeration
8.Nuclear water pump + update big drinking water tank managed water flow: lower sound, longer life time.
9.Various photos control program, intelligent administration, practical for employing cooperation.
10.Professional software guidebook you treatment for all types type skin automatically.
Specification
Item

Specification

Lamp-house

Super intense pulsed light

Range of Spectrum

VCA TECH NEW TECHNOLOGY

480 -1200nm: remove acne 480 –950nm: remove acne

530 -1200nm: speckle treatment 530 –950nm: speckle treatment

560 -1200nm: skin rejuvenator 560 –950nm: skin rejuvenator

590 -1200nm: remove vessel 590 –950nm: remove vessel

640 -1200nm: remove unwanted hair 640 –950nm: remove unwanted hair

690 -1200nm: remove unwanted hair 690 –950nm: remove unwanted hair on dark skin (optional) on dark skin




750-1200nm: remove unwanted hair 750-950nm:remove unwanted hair fast (optional)

80-1200nm:remove unwanted hair fast (optional) 810-950nm:remove unwanted hair fast

Density of Energy

50J/cm2

Spot size for

Changeable Filters Hand-piece

50*15 mm2, 40*13mm2, 30*12mm2

Spot size for High Power Fixed Sapphire

50 * 14 mm2, 40 *14 mm2, 40 * 8mm2

Amount of pulse

1~6,adjustable

Interval of Pulse

1~99ms,adjustable

Sub-pulse Width

0.1~9.9ms,adjustable

Cycle

1~4s,adjustable

Cooling Way

Semiconductor +wind+water cooling

Screen

5.7/8.4/10.4inch color touch screen

Power Supply

220V/110V ±10% 60Hz/50Hz

Working Period

Continuously stand-by working for 24 hours

Free Parts

Goggles, laser glasses, foot-switch, power line, scrape board, key, ect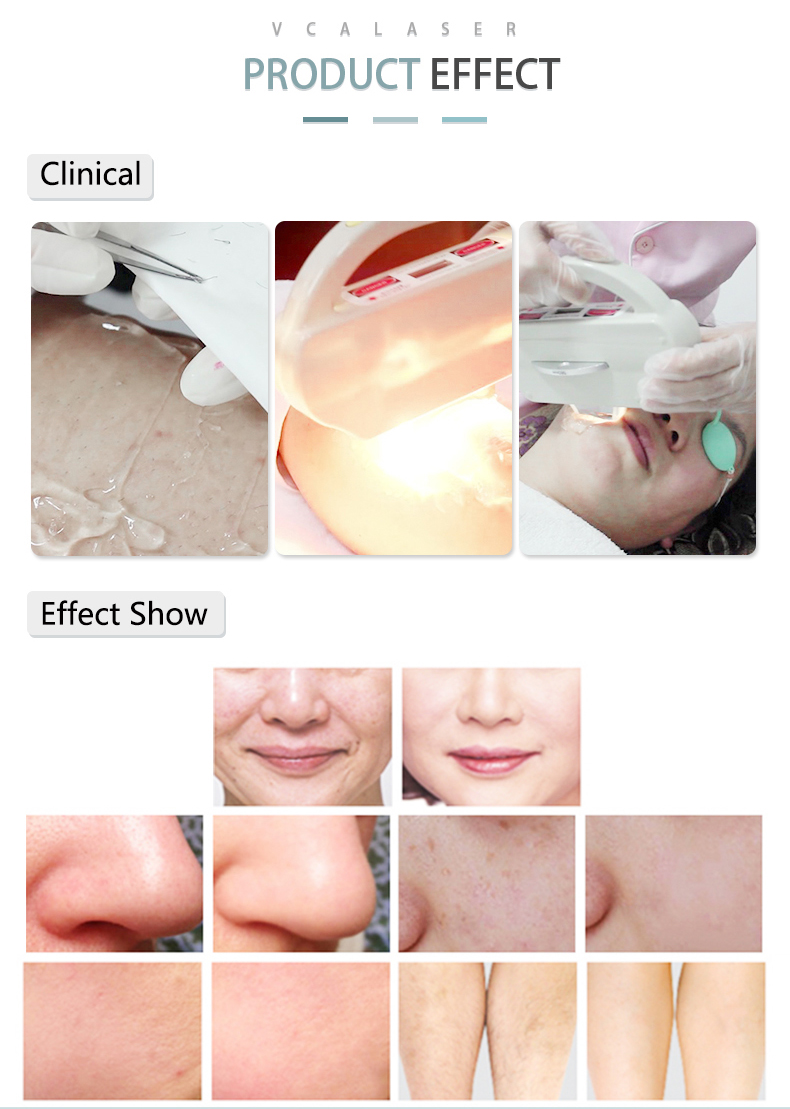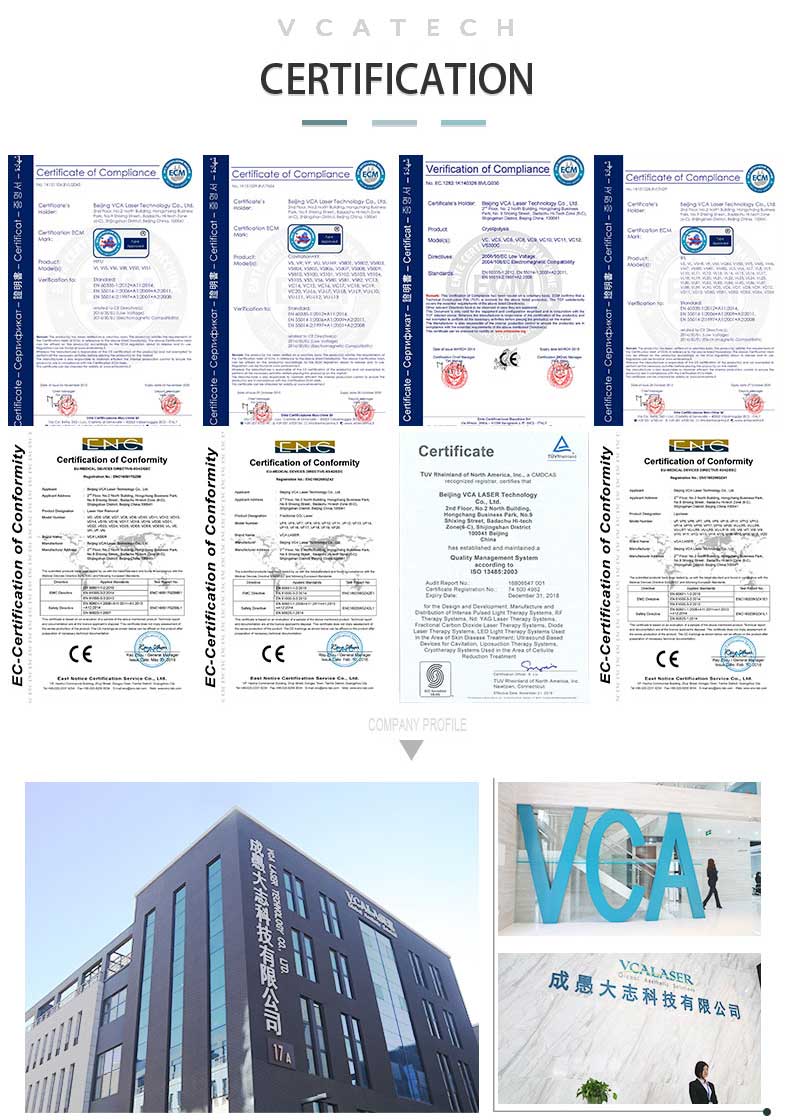 VCA Advantages
1. Available treatment heads: Fiber-optical tip, TMJ therapy tip, Biostimulation big tip, Biostimulation small tip, whitening tip. More unique demands can be satisfied.
2. Treatment head can be adjusted with 360°angles according to treatment requirements.
3. Unique treatment handle, open mold by ourselves, energy is more stable.
4. Handle plug connection imported, plug and insert more than 5,000,000 times.
OUR SERVICE
Warranty: We offer 3 years warranty, lifetime maintain, 24 hours calling service.
Training: User manual, treatment manual, technology manual, training video CD,etc.
Certification: TUV ISO13485, CE, Free Sales, Medic device production licence,etc.
Quality: 80% imported promised best quality.
OEM/ODM: There is mold factory, painting factory for ourselves, fastest and lowest cost price for offer OEM/ODM service. Multilingual arbitrary languages on software.